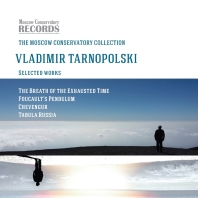 Vladimir Tarnopolski CD-Portrait


download a booklet

The Breath of the Exhausted Time (1994)
for orchestra
Foucault's Pendulum (2004)
for large ensemble
Chevengur (2001)
for voice and ensemble on texts by Andrei Platonov
Tabula Russia (2015)
for orchestra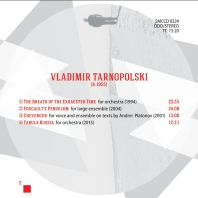 1 — State Academic Symphony Orchestra "Evgeny Svetlanov", conductor Vladimir Jurowski, 2015
2 — Schönberg Ensemble, conductor Reinbert de Leeuw, 2004
3 — Svetlana Savenko, mezzo-soprano. Studio for New Music ensemble, conductor Igor Dronov, 2003
4 — Orchestra of the Russian-German Music Academy, conductor Valery Gergiev, 2016

© & ® Moscow Conservatory Records, MSCCD 0224, 2017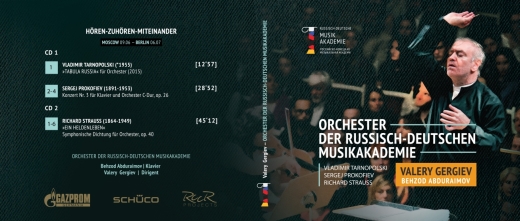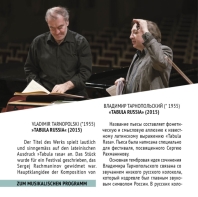 Orchester der Russisch-Deutschen MusikAkademie
Vladimir Tarnopolski, Sergej Prokofiev, Richard Strauss

Vladimir Tarnopolski. Tabula Russia für Orchester (2015)

Valery Gergiev, conductor
Live recording from the concert at the Konzarthaus Berlin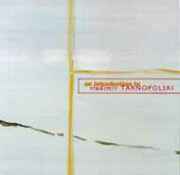 An Introduction to Vladimir Tarnopolski
Megadisc Classics – MDC 7838, 1998

Kassandra (1991)
for large ensemble →MP3
Eindruck-Ausdruck II (1989-1992)
for piano and large ensemble
Echoes of the Passing Day (1989)
for clarinet, cello and piano
Jesu, Your Deep Wounds (1987)
for large ensemble

1,4 — Studio for New Music (conductor — I. Dronov), 1994-97.
2,3 — Moscow Ensemble of Soloists (conductor — A. Vinogradov), 1992.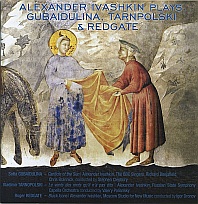 Alexander Ivashkin plays Gubaidulina, Tarnopolski and Redgate

Gubaidulina: Canticle of the Sun for cello, choir and percussion
Tarnopolski: Le vent des mots qu'il n'a pas dits (The Wind of Unspoken Words), for cello and orchestra
Redgate: Black Icons, for cello and small orchestra

Alma Classics, 5032, 2013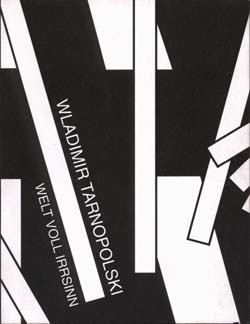 World Full of Madness
Klimop – 006

Welt voll Irrsinn (World Full of Madness) (1993)
for large ensemble
The Dadaistic poetry of Kurt Schwitters was read by the composer through the prism of the stormy reality in Russia at the beginning of the '90. (coups, political demonstrations, tanks in the streets of Moscow etc.) Tarnopolski finds direct parallel with the absurd poetry that is shouted by the members of the orchestra and with the situation of today. "And considering the form and purely the structure I was interested in finding a balance between coincidence and determination, as in our society we were balancing between chaos and dictatorship. In the writings of Schwitters I tried to discover those moments. For example I heard in "Banalitäten aus dem Chinesischen (à la Mao-Ze-Dung)" the hysteria of the Maoistic meetings and the demagogic tune of some new Russian politicians."

de ereprijs ensemble has dedicated itself to the performance of contemporary music, with the occasional performance of exceptional twentieth-century works. Aside from the traditional concert programmes, special projects are often arranged in which various disciplines combine. To date that has resulted in programmes, which combine music with dance, visual art, film, theatre and architecture. Since 1989 there have been strong contacts with foreign composers, a development, which has resulted in the writing of a number of new works, specially for "de ereprijs" — as is the case with most of the repertoire. Due to the nature of the works and the formation of the orchestra — for example, solo pieces and the presence of percussion and electrically amplified instruments — both the stage presentation and the sound can be changed, from that of a "classic" chamber orchestra to the sound of a pop group or an electronic studio. As a result the group is able to offer composers, and ultimately the public, a great variety in potential sound.

The CD was recorded in presence of Vladimir Tarnopolski on the 19th, 20th and 21st October 1994 at the Dutch Reformed Church at Voorst.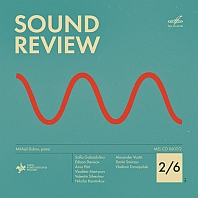 Sound Review 2/6
Sofia Gubaidulina, Edison Denisov, Arvo Part, Vladimir Martynov, Valentin Silvestrov, Nikolai Karetnikov, Alexander Vustin, Dmitri Smirnov, Vladimir Tarnopolski

Vladimir Tarnopolski. Eindruck-Ausdruck for piano (1989)

Mikhail Dubov, piano

© & ® 2020 JSC "Firma Melodiya"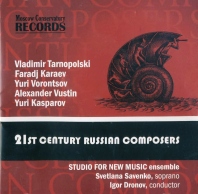 21st Century Russian Composers
Vladimir Tarnopolski, Faradj Karaev, Yuri Vorontsov, Alexander Vustin. Yuri Kasparov

Vladimir Tarnopolski *1955 Chevengur for voice and ensemble on texts by Andrey Platonov (2001)

'Studio for New Music' ensemble
Svetlana Savenko, soprano
Igor Dronov, conductor

© & ® Moscow Conservatory Records, 2014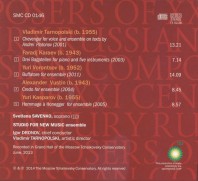 more info (rus)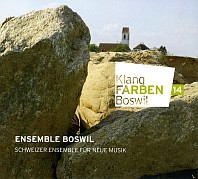 Klangfarben Boswil 14
Ensemble Boswil
6 Jahre Ensemble Boswil fur Neue Musik

Iannis Xenakis (1922 - 2001) ST/10-1,080262 fur 10 Instrumente (1962)
Xiaoyong Chen *1955 Reflectere fur Ensemble (2007)
Beat Furrer *1954 Xenos fur grosses Ensemble (2008)
Klaus Huber *1924 Kammerkonzert intarsi fur Klavier + 17 Instrumentalisten (1994)
Vladimir Tarnopolski *1955 Cassandra fur grosses Ensemble (1991)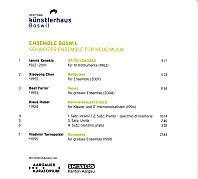 unter der Leitung von: Peter Hirsch, Tsung Yeh, Beat Furrer und Pierre-Alain Monot

order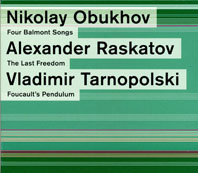 Obukhov – Raskatov – Tarnopolski
KTC 9000 – Schönberg Ensemble – a century of music – CD 18, 2006

Nikolai Obukhov (1892–1954) Four Balmont Songs
Alexander Raskatov (1953) The Last Freedom
Vladimir Tarnopolski (1955) Foucaults Pendulum (2004)

---
AUDIO
Cassandra (1991)
Studio for New Music Moscow ensemble, conductor Igor Dronov


Welt voll Irsinn (1993)
de Ereprijs orchestra, conductor Wim Boerman


The Breath of the Exhausted Time (1994)
Symphonieorchester des Bayerischen Rundfunk, conductor Alexander Lazarev


Chevengur (2001)
Svetlana Savenko, soprano
Studio for New Music Moscow ensemble, conductor Igor Dronov


Foucault's Pendulum (2004)
Schönberg ensemble, conductor Reinbert de Leeuw


Last and Lost (2010)
Klangforum Wien ensemble, conductor Sylvain Cambreling


Redshift (2013)
Orchestre Philharmonique De Monte-Carlo, conductor Dima Slobodeniouk.
Alexis Baskind, realisateur informatique musicale


Tabula Russia (2015)
Rotterdam Philharmonic Orchestra, conductor Valery Gergiev


Study of a girl reading Pavese (2015)
Keren Motseri, soprano. Israel Contemporary Players, conductor Ilan Volkov


Perpetuum Moebius (2017)
XXI Century ensemble (Vienna), conductor Peter Burwik


Be@thoven – Invocation (2017)
Orchestra Radio Hessen (Frankfurt), conductor Andres Orozco-Estrada


Cello Concerto (1989)
Premiere — December 21, 1982, Moscow Tchaikovsky Conservatory, Grand Hall. Orchestra of The Ministry of Culture, soloist Sergey Sudzilovsky, conductor Gennady Rozhdestvensky:
Echoes of the Passing Day (1989)
Oleg Tantsov, clarinet; Natalia Savinova, cello; Victor Jampolski, piano


---
VIDEO
Perpetuum Moebius
for flute, bass clarinet, violin, cello and piano
Ensemble Court–Circuit
Jean Deroyer, conductor
Salle Alfred Cortot, Paris
March 16, 2021


Szenen aus dem wirklichen Leben (Scenes from the Real Life)
for soprano, flute, French horn and piano
Text: Ernst Jandl
Alyona Verin-Galitskaya, soprano
Studio for New Music ensemble
Moscow Tchaikovsky Conservatory, Rakhmaninov Hall, 2021


Last and Lost
for ensemble
Lemanic Modern Ensemble (Switzerland)
conductor William Blank
2nd St. Petersburg International New Music Festival
Mariinsky Theatre Concert Hall, May 21st 2014


Last Sunset
for saxophone soprano, NASAs recording of the sound of Earth and electronics.
Yui Sakagoshi, saxophone soprano
Jean Geoffroy; Christophe Lebreton, Light Wall System
Theatre de la Renaissance
Lyon, France


Es ist genug, chant for bassoon solo
Valentin Pouzankov, bassoon


Russian-German Music Academy Orchestra under Valery Gergiev plays "Tabula Russia" by Vladimir Tarnopolsky.
Grand Hall of Moscow Conservatory. June 2016





Jenseits der Schatten (Beyond the Shadow)
Various fragments from the multimedia opera
Beethovenfest 2006. Co-production Oper Bonn, Palindrome Dance Company, MusikFabrik ensemble

Trio of the Prisoners of the Cave (after Dante)




Dispute between the Arts about their importance (text by Leonardo)




Trio of Arts




Beyond the Shadow. Various fragments


Wenn die Zeit uber die Ufer tritt
(When Time Overflows its Margins)

samples from the opera:

Szene 1, "Die Zeit vergeht", Terzett
Muenchener Biennale, 1999




Scene 1. "Dream about the Love", Quintet
Muenchener Biennale, 1999




Szene 2. "Heute ist Sonntag", Trio
Muenchener Biennale, 1999




Szene 2, "Titanic", Septett
Muenchener Biennale, 1999


Chevengur
Recorded at Darmstadt, Germany, 26 July 2010
Natalia Pshenichnikova, mezzo soprano
Studio for New Music, conductor Vladimir Gorlinsky





…Le vent des mots qu'il n'a pas dits
(…The wind of words which he didn't say)


SOTTO VOCE. Concert-meeting with Vladimir Tarnopolski
in Andrei Ustinov's cycle "Person-Composer". 1st part
Moscow Philharmony, Chamber Hall, March 02, 2021


SOTTO VOCE. Concert-meeting with Vladimir Tarnopolski
in Andrei Ustinov's cycle "Person-Composer". 2nd part
Moscow Philharmonic Society, Chamber Hall, March 02, 2021


Vladimir Tarnopolski talks about the time of his studies


About two Russian opera productions by Vladimir Tarnopolsky
Vladimir Tarnopolsky and Ekaterina Biryukova
'Context', info-analytical program
Moderator Igor Volgin
'Rossiya – Kultura' TV channel, March 29, 2015
Video source






" A True Story About Cinderella", TV report by St.Petersbourg channel
The "ARTEfakty" program: "…what is actually happened to Cinderella." March 28, 2015, 12:00
Video source





Multimedia opera by Vladimir Tarnopolsky showed in Moscow
News of Culture. 'Kultura' TV channel, Match 26, 2015
Video source





What the music is?
Vladimir Tarnopolski takes part in "Brainstorming" TV program
TVC channel, Moscow, June 9, 2014





'Fourteenth Year', gogol.tv, 26.05.2014
Parallels between 1914 and 2014 are discussed by composer, professor Vladimir Tarnopolski, and architect, designer and essayist Andrei Baldin.


'Observer', Kultura TV channel, 22/04/2014
Subject: Andrey Platonov, 115 years. His novel 'Chevengur', 85 years.
Leading by Andrey Maximov.


Music Biennale, Venice, 2011
Vladimir Tarnopolsky's interview (in English)


Vladimir Tarnopolski's Interview before the Moscow premiere of Be@thoven–Invocation for orchestra (February 2020, in Russian)