A True Story About Cinderella
A Musical Fairy Tale for Adults Accompanied by Children. For children's choir, children's orchestra,6 narrators and professional ensemble
Text: Roald Dahl's "Revolting Rhymes" adapted by Donald Sturrock
FP: 28 April 2003, Barbican hall, London, Centre for Young Musicians orchestra and London Schools Symphony orchestra, conductor Peter Ash
Childern's orch.: flexiband (any wind instruments; 4 parts), 5 percussions as soloists and percussion ensemble, harp, piano solo, string group
Children's choir
6 Narrators
Ens.: 1.1.1.BCl.1. – 1.1.1.0. – 2Perc – Hp – 1.1.1.1.1.
The Premiere — Flyers: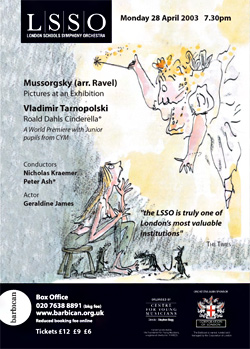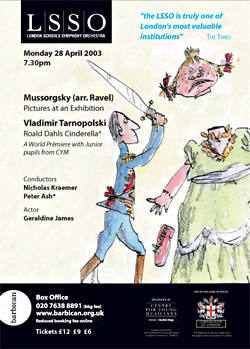 The Premiere — Pictures: